Difference between revisions of "Anycubic Photon Mono X"
From Fab Lab Bcn WIKI
Line 12:
Line 12:
 
 
 

==Technical specifications==

 

==Technical specifications==

−

* 'System :' ANYCUBIC Photon Mono X

+

* 'System :' ANYCUBIC Photon Mono X

−

* Operation : 3.5 inch Touch Screen

+

* Operation :3.5 inch Touch Screen

−

* Build Volume: 192mm(L)*120mm(W)*245mm(H)

+

* Build Volume:192mm(L)*120mm(W)*245mm(H)

−

* Light-source: high-quality filament(wavelength 405nm)

+

* Light-source:high-quality filament(wavelength 405nm)

 

* XY Res.: 0.050mm 3840*2400(4K)

 

* XY Res.: 0.050mm 3840*2400(4K)

 

* Z Axis Res.: 0.01mm

 

* Z Axis Res.: 0.01mm
---
Revision as of 16:44, 20 June 2022
RESIN 3D PRINTER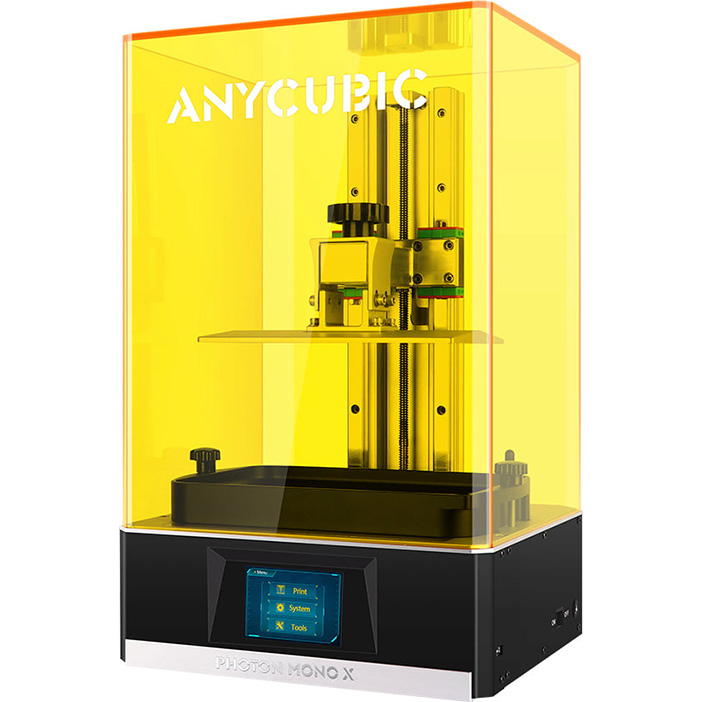 The SLA 3D Printers use a UV laser that applies the shape of an object to the surface of a photopolymer container. The resin then hardens to form the individual layers of the 3D printed model. This process is repeated until a complete 3D printed object is created.
Please note that students using this printer should purchase their own resin and should take in consideration the 3 to 8 days needed for shipping. The resins for Anycubic can be found here.
Technology
Resin 3D printing is the technology in which liquid resin is stored in a container instead of being injected through a nozzle. The major terms or types of resin 3D printing include Stereolithography (SLA), Digital Light Processing, and Liquid Crystal Display (LCD) or Masked Stereolithography (MSLA).
Technical specifications
System : ANYCUBIC Photon Mono X
Operation : 3.5 inch Touch Screen
Build Volume: 192mm(L)*120mm(W)*245mm(H)
Light-source: high-quality filament(wavelength 405nm)
XY Res.: 0.050mm 3840*2400(4K)
Z Axis Res.: 0.01mm
Layer Res.: 0.01-0.15mm
Printing Speed: MAX 60mm/h
Rated Power: 120W
Material: 405nm UV Resin
Software : ANYCUBIC Photon workshop
Connectivity : USB
Technology: LCD-based SLA
Printer Size : 270mm(L)*290mm(W)*475mm(H)
Net Weight: ~10.75kg
Health & Safety
Although liquid 3D printing resins are toxic, potentially irritating skin and giving off harmful fumes, they are safe to use if the appropriate safety precautions are taken. Such precautions include the use of personal protective equipment like safety glasses and nitrile gloves, as well as proper disposal containers.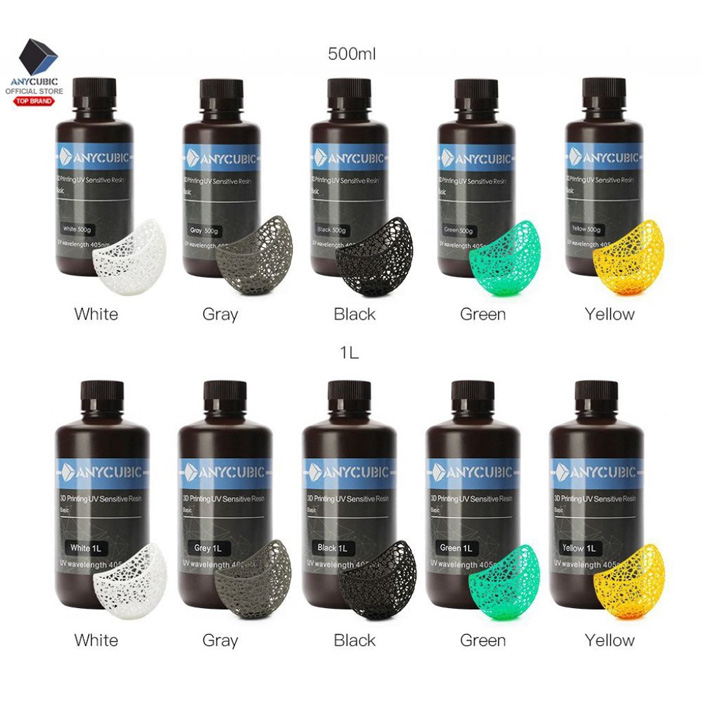 MATERIALS
Anycubic Materials
Several types of resin and color are available on the official website to order. The most common resin used is UV resin, however some water washable resins are also available that do not need alcohol to be cleaned after the print is done. Water washable resin is better in regard to cleaning your models since they are easier to clean and doesn't require isopropyl alcohol or another cleaning solution. They are known to smell less than other resins and can still produce similar great details and durability in models.
WORKFLOW
PREPARE FILE
Use the Chitubox software to slice the model and make sure to import the correct printer in the settings (Anycubic Photon Mono X).
Make sure your model is sitting on the build plate
Under Settings, Add the printer and under the Print tab check the Layer Height (0.03-0.05 mm for best resolution), Bottom Layers (4 to 6 with 28s-35s exposure for good grip) and Exposure Time (2s-2.8s to cure the layers)
Save the gcode as .pmwx and put it on the printer's red USB (only one that works)
Tips on how to orient the model and add supports are through this link. Keep in mind that a piped shape (hollow with thickness) would create suction with the FEP film and might cause some damage.
SETUP MACHINE
If needed (if printer has been moved / reset to factory settings / firmware update), before sending the print, level the bed and set the zero once again.
The steps to do that are here p.13 of 54
To send a file, go to Print, and a thumbnail should appear. Click Print.
SEND PRINT
Watch the print for at least 30mns to 1h to make sure everything is okay.
Check that the first 4 or 6 layers (depending on settings) are in fact taking a longer time to cure
30mns in, press the pause button and the build plate will lift up after it is done curing its current layer. You can then check if the print is okay. If it seems like it is attached to the base and is printing fine, press play and carry on until.
WASH PRINT
This step is very important and needs extra care as the uncured resin is very toxic. A mask and gloves are required for this step, along with paper towels and a clean and spacious work station.
Prepare the washbox. Add the 5L of alcohol if using UV resin (depending on the size of the print, more specifically the height) and make sure there is enough alcohol to submerge the model
Lightly unscrew the build plate (big black screw)
Place the basket inside the sealed container with the alcohol and let the build plate with the model rest on the basket
Set the mode to "Wash"
Set the time to wash (5-15mns depending on the scale of the model) and press Play
Use the scraper (not sharp) to detach the model off the build plate and let it dry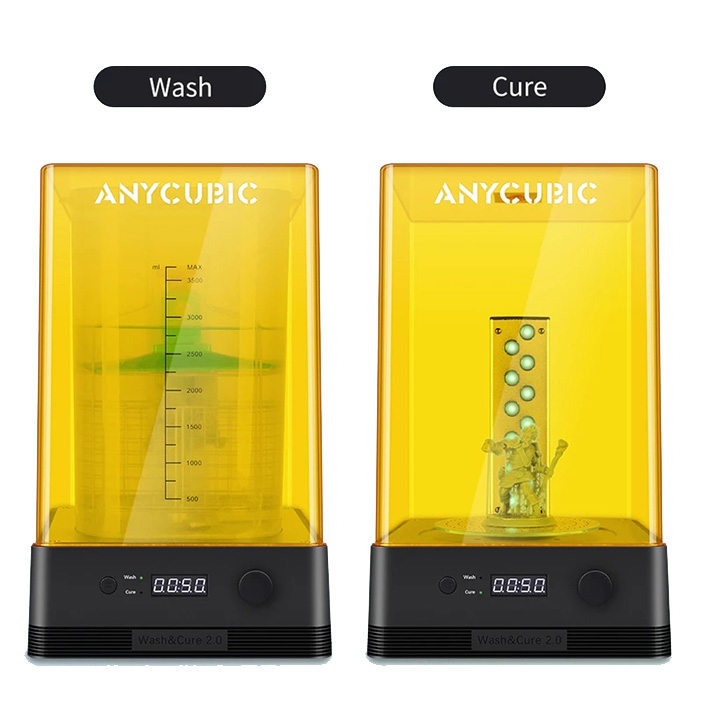 WASH RESIN BED
It is important to clean up the bed just as much as the print.
Unscrew the bed from the printer
Pour the uncured resin back into the bottle using the disposable resin filter. Make sure to lift it from the gorge in order not to spill resin everywhere
It is easier to cure any remaining resin in the bed using the Tools > Detection > 30 s (full screen) and peel it off
Place the bed inside the container with the alcohol and wash it for a minimum of 5 mns
CURE PRINT
If the model is not cured after being washed then it will be weaker and more prone to deform or break.
Prep the same box for curing this time. Remove the container with the alcohol and place the UV film mirror side up (rose gold side down)
Place the curing plate on top, followed by the dry model. If the model is still wet as it is being cured it could crack or end up with a bad surface finish
Switch the mode of the box to "Cure" and set it for 5-15 mns depending on the size of the print
USEFUL LINKS