Difference between revisions of "Bosch GST 150 BCE Jigsaw"
From Fab Lab Bcn WIKI
 

 

(10 intermediate revisions by 3 users not shown)
Line 1:
Line 1:
−

Jigsaw BCE

+
 
+
 
+

BCE

 
+

 

 
+
 
+

 

 
+
 
+

 

 
+
 
+

 

 
+
 
+

 

 
+
 
+
 
+
 
+
 
+
 
+

 

 
+
 
+

 

 
+
 
+
 
+
 
+
 
+
 
+
 
+
 
+
 
+
 
+

 

 
+
 
+
 
+
 
+

 

 
+
---
Latest revision as of 11:49, 27 April 2020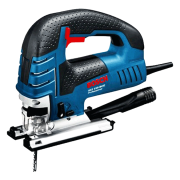 Description:
A jigsaw power tool is a jigsaw made up of an electric motor and a reciprocating saw blade.
Jigsaws are ideal for cutting curves and complex shapes in wood. They also work well for making short crosscuts on a board and finishing inside corner cuts. Jigsaws are not good for making fast, long, straight cuts. Use a circular saw instead.
In the past, what is now usually called scroll saws were often referred to as jigsaws. A power jigsaw may also be referred to, by some manufacturers, as a "bayonet saw" or sabre saw.
Safety
Always use safety glasses.
Make sure the machine is unplugged before changing the blade and keep it away from the direction of your face.
Check that the cutting line does not pass over the work table. Otherwise you risk damaging the work table.
The electric cable must be position on the opposite side of the cutting direction.
How to use
Used for free shapes.
Choose the right blade according to the material, the thickness and the maximum angle of the cutting curve.
The blade have to be at least 1 cm longer than the thickness of material.
Don't change the T-shape blade with it directed at your face. Lie the tool down onto the worktable and proceed to change the blade.
Use a fence for perfectly straight cuts. Hold the workpiece and the fence firmly with clamps.
Avoid driving blades into the bench top.
With hardwood use slower speeds (to much friction can burn the material).
With softwood can use faster speeds.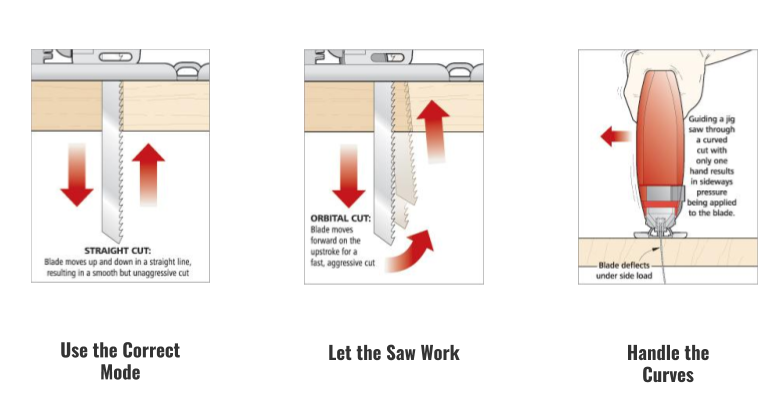 Blades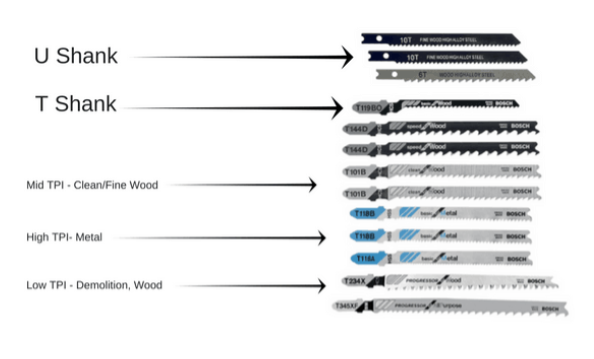 External link
http://www.bosch-professional.com/za/en/jigsaw-gst-150-bce-131485-0601513000.html