Ecoplus TS-20 Drill Press
From Fab Lab Bcn WIKI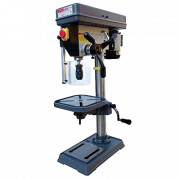 Ecoplus TS-20 Drill Press
How to use
Use always glasses and if you're drilling metal, gloves are required
Tool to drill wood, metal and plastic
One speed. You don't need to set the speed.
Fit the Bit. Open the chuck, slide in the bit, snug the chuck by hand around the bit's shaft, then tighten.
Adjust the Table. Release the clamping lever on the back of the platform and turn the crank on the right side to adjust the table height.
Secure the Workpiece. The ro­tation of the drill bit may try to spin the wood or metal workpiece, so it must be clamped to the worktable.
Advantages
A drill press has a number of advantages over a hand-held drill:
Less effort is required to apply the drill to the workpiece.
The movement of the chuck and spindle is by a lever working on a rack and pinion, which gives the operator considerable mechanical advantage
The table allows a vise or clamp to be used to position and restrain the work, making the operation much more secure
The angle of the spindle is fixed relative to the table, allowing holes to be drilled accurately and consistently
Drill presses are almost always equipped with more powerful motors compared to hand-held drills. This enables larger drill bits to be used and also speeds up drilling with smaller bits.
External link
https://www.bricolandia.es/belflex-taladro-de-sobremesa-ep-ts-20-44174000/