Makita RT0700C Router
From Fab Lab Bcn WIKI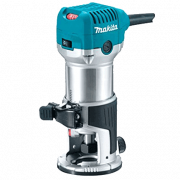 Makita RT0700C Router
How to use
High-speed spinning tool with a bit at the end of the motor's shaft that allows the user to smoothen, to curve, and to polish the edges and several parts of the wood.
The machine should be unplugged after use to avoid unnecessary accidents.
A high spinning metal can cause a serious damage if you are hit by it.
Always check your workplace for any unsecured material before turning router on.
Manual
https://www.google.it/url?sa=t&rct=j&q=&esrc=s&source=web&cd=1&ved=0ahUKEwi2suLyvcHbAhWE8RQKHbbWCY4QFggnMAA&url=https%3A%2F%2Fwww.makita.de%2Ffileadmin%2F_migrated%2Fcontent_uploads%2FRT0700C-B.pdf&usg=AOvVaw0yV2iaz0pONYlBRxpoyMMG
External link