Makita DHP453 Hammer driver drill
From Fab Lab Bcn WIKI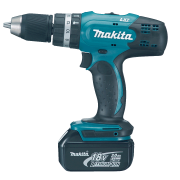 Description:
A driver drill is a tool primarily used for making round holes or driving fasteners. It is fitted with a bit, either a drill or driver, depending on application, secured by a chuck. It also includes a hammer function.
A cordless drill is an electric drill which uses rechargeable batteries. They are available in the hammer drill configuration and most have a clutch, which aids in driving screws into various substrates while not damaging them.
How to use
Choose the correct drill bit.
Fit the drill bit firmly into the chuck. You may be able to do this by hand.
Hold the drill steady and push it into the material you're drilling. If it takes more than light force to drill the hole, you're probably using the wrong bit.
Adjust the clutch. Each drill has a twistable collar to adjust the torque. The higher the number, the more torque (rotational force) the drill will apply.
Avoid overheating the drill bit.
If the battery is too low, swap it with a spare battery pack.
Features
Drill and screwdriver
Two speeds, less speed more power, more speed less power
Gear number:

High number (14) more pressure and power
Low number (1) less power for not damage the material when you break the bottom surface

Screw position
Hammer position, not just spin (used for concrete and not for metal and wood)
Drills
Using a bit made from the wrong material can cause the bit or the material you're drilling to break. You can use a general-purpose bit on most wood; a masonry bit for stone, brick or concrete; an HSS (high speed steel) bit on most metals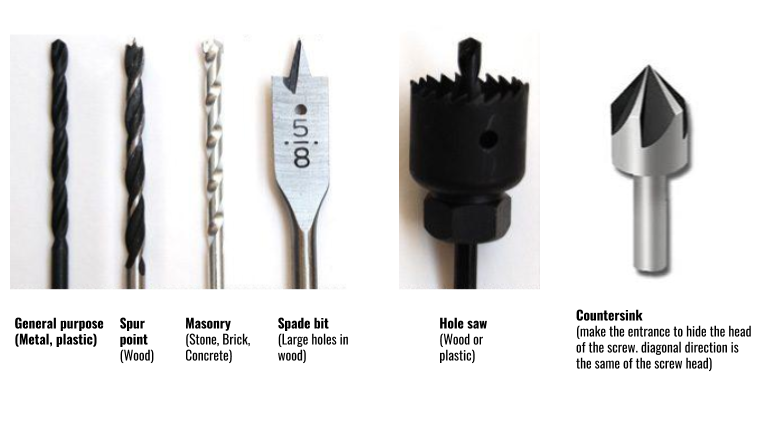 Screw

External link