Troteclaser
From Fab Lab Bcn WIKI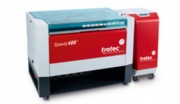 Precaution
Never leave the laser device unattended while the system is operating.
Always have a fire extinguisher available, as the laser beam can ignite flammable materials.
Do not put any flammanle materials in the inside of the device or in the immediate surroundings of the device.
Be aware of all Laser safety stickers on the machine and follow them.
The system must be used only by authorized and trained personnel.
Avoid electrostatic charging during cable connections / plug-in.
Do not start the Laser machine without an adequate exhaust system.
In case of a broken lens: avoid direct skin contact and inhaling.
"EMERGENCY-STOP": on any risk: LIFT THE COVER LID!
Procedures on the softwares
Rhino
Geometry
Check the scale of the drawing , make sure you are in millimeters and that your material fits in the laser.
Seldup command selects duplicate lines. Keep in mind that is there are more than one lines the laser cutter will pass more times over the same place.
Make2d if you import your drawing from other programs other than rhino and to make sure that everything is on 0 in Z plane.
Change object layer : hairline

Engrave
Cut
Cut
Cut
Cut
Cut
Cut
Cut
Cut
Cut
Cut
Cut
Cut
Cut
Cut
Cut
Cut
Cut
Cut
Printing
Drag the square to define your print window
Press enter and once you come back to the previous screen clic on print.
Job control
The Machine : Trotec Speedy 400
Characteristics
Overall dimensions (W x D x H)
1400 * 950 * 1070 mm
Working area
1000 * 610 mm
Max. height of workpiece
305 mm
Max. processing speed
355 cm / second, acceleration 4g
Accuracy
Addressable accuracy: 5 microm
Static repeat accuracy: < +/- 15microm
Mechanical design
Fully enclosed chassis with double safety interlock system laser safety class,
CE coñpliant maintenance-free, brushless DC servo motors
InPack-Technology
Laser Design
Sealed-Off CO2 laser
from 40 - 120 Watt
Weight
Approx. 300kg (depending on laser power)
Accessories
Focus Tool
Cone
Allen Key set 1.5 - 10mm
2 Wrenches
Lens cleaning tissues
Optics cleaning tissues
AC power cord
The lens
| Colours | Focal (mm) | Thickness material Used |
| --- | --- | --- |
| Red | 1.5 | Very fine |
| Black | 2 | Used mainly |
| Pink | 2.5 | Thick |
Focus Lenses for Trotec Laser Machines
Cleaning optics
Do not touch directly the lens during the operation.
Pour on it a drop of the specific product : "Lens clens".
Clean it with the appropriate electrostatic tissues : "Edmund Industrial Optic".
Vacuum
| | |
| --- | --- |
| Accrylic | Not Compress Air |
| Rubber | Compress Air |
| Wood | Compress Air |
Turn on the machine
Turn the key.
Clean and insert the lens in the laser head : the curved portion above.
Move the head with the arrows on the machine.
Use the focus for piala dunia streaming positionning the table.
When the lid is closed, a light flashes at a reduced frequency.
Turn on the vacuum, if it is necessary.
On "Job control", connect the machine and align your document with the target thanks the following commands :